'A hug for your soul': Babyface, Common and others celebrate black movie music at the Hollywood Bowl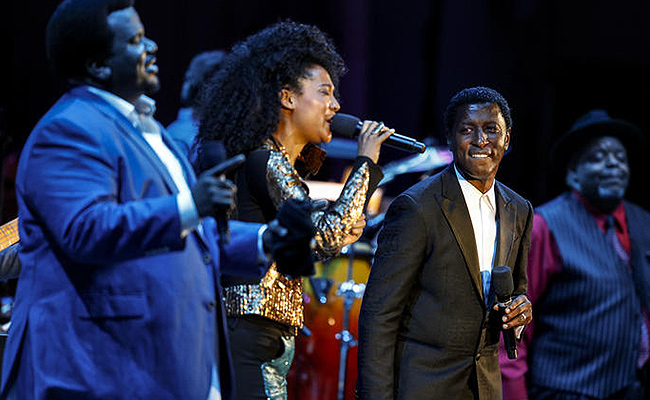 Craig Robinson, left, Judith Hill and Kenneth "Babyface" Edmonds perform Wednesday at the Hollywood Bowl. (Jay L. Clendenin / Los Angeles Times)
As movies go, "Shaft" and "Waiting to Exhale" are about as different as can be.
In the former, Richard Roundtree plays a private detective battling enemies on the streets of New York. In the latter, Whitney Houston is a show-biz professional in love with the wrong guy.
But on Wednesday night at the Hollywood Bowl, these disparate pictures were celebrated, along with many others, for what they share: killer songs.
The occasion was "The Black Movie Soundtrack II," the sequel to a successful production mounted at the Bowl in 2014 that brought together acts such as Public Enemy and En Vogue to perform music from films including "Sparkle," "In the Heat of the Night" and "Do the Right Thing."
Like the first installment, Wednesday's concert was overseen by Reginald Hudlin, who produced this year's Academy Awards ceremony, and Marcus Miller, the Grammy-winning bassist and bandleader known for his work with Miles Davis and Luther Vandross. (Miller's small combo was accompanied by the Hollywood Bowl Orchestra under the direction of Vince Mendoza.)
Actor Craig Robinson returned as host, and in his welcome to the audience, he said the show — which paired live performances with movie clips projected on a large screen — had an explicit feel-good design.
"A hug for your soul," he called it.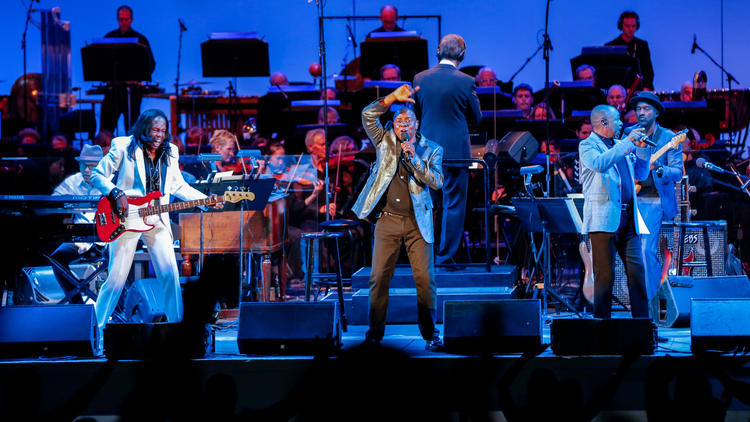 Verdine White, left, Philip Bailey and Ralph Johnson of Earth Wind & Fire. (Jay L. Clendenin / Los Angeles Times)
That's certainly what Charlie Wilson, resplendent in a sparkly white suit, delivered in his charismatic take on Isaac Hayes' "Theme From Shaft." Ditto Kenneth "Babyface" Edmonds, who flexed his creamy falsetto in "Superfly," one of several Curtis Mayfield tunes performed Wednesday; later, Gladys Knight revisited the lush soul-funk songs Mayfield wrote for her and the Pips to sing in 1974's "Claudine."
More positive vibes came from the old-school hip-hop crew Full Force, which zoomed through "Ain't My Type of Hype" (from Hundlin's movie "House Party"); Philip Bailey, Verdine White and Ralph Johnson of Earth Wind & Fire in a jubilant "September"; and singer Judith Hill, who did "Sittin' Up in My Room" as part of a suite of songs created by Babyface for "Boomerang" and "Waiting to Exhale."
That medley also featured Lalah Hathaway in "Love Shoulda Brought You Home" and Babyface himself in "Give U My Heart" — persuasive evidence that this perceptive singer, songwriter and producer has earned a place next to Mayfield as one of R&B's true auteurs.
As crowd-pleasing as "Black Movie Soundtrack" set out to be, the show used heavier moments to demonstrate the thematic and emotional range of black cinema — and to illustrate, as motion picture academy President Cheryl Boone Isaacs said in her opening remarks, that "black movie music matters."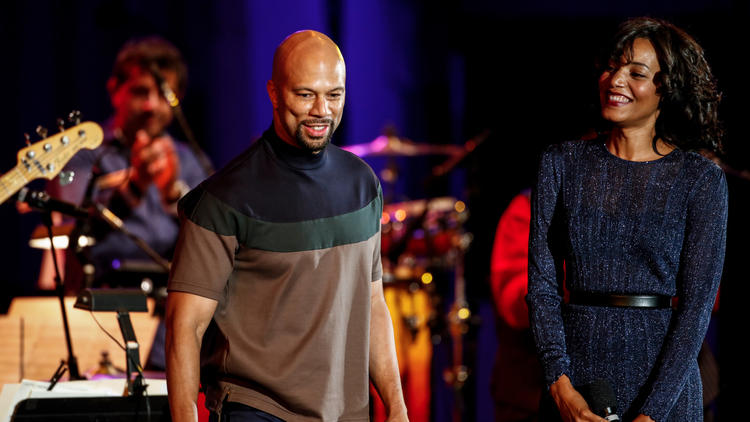 Common and Alice Smith performed "Glory," from the movie "Selma." (Jay L. Clendenin / Los Angeles Times)
In a turn from the night's cheerful nostalgia, Common and Alice Smith performed "Glory," the rousing — and unsparing — hip-hop anthem from Ava DuVernay's "Selma" in which Common explained "why Rosa sat on the bus" and "why we walk through Ferguson with our hands up."
And though a tribute to the late Prince had Wilson busting sweet moves through "Baby I'm a Star," the memorial closed on a more somber note, with Hathaway singing the title track from "Purple Rain" as though it were an age-old hymn.
Which, come to think of it, it basically is.
Source: Here